The Axiom Software platform is deployed in a cloud environment that enables you to reduce IT overhead while receiving optimal system performance and unmatched security. Kaufman Hall provides and maintains all necessary platform infrastructure and performs all technical maintenance activities. Customers connect to their own, personalized Axiom Cloud system via a secured Internet connection, powered by dynamically scalable, secure and geo-distributed Microsoft Azure datacenters.
No IT required
Unmatched security
Powerful automated data integration
Seamless system updates
Want more detail? Read our solution brief. 
Axiom Software is a true enterprise-grade cloud EPM solution driven by customer success and satisfaction.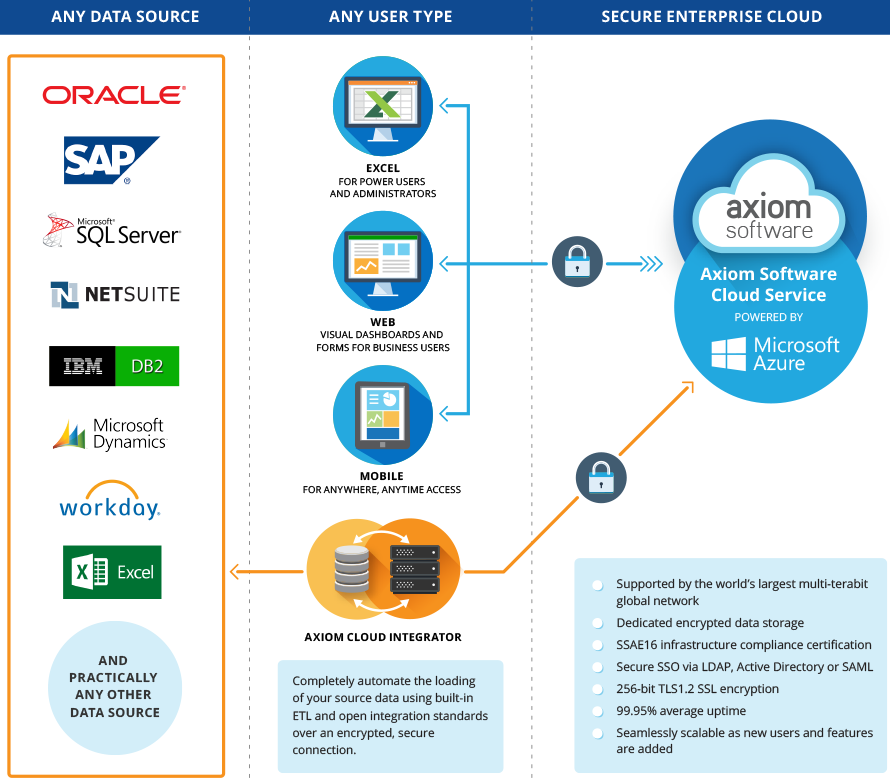 PRIVACY AND SECURITY
The Axiom Software Cloud service employs a framework of security and risk protocols that enable our customers to meet a number of their industry-specific regulatory requirements. The Microsoft Azure infrastructure addresses a wide range of international, country, and industry-specific regulatory requirements, by meeting the certification requirements. Read more about our full security certifications.
ROBUST FULLY-AUTOMATED DATA INTEGRATION
Easy to use interface lets you select an integration option based on the frequency of your data needs. Built-in ETL and our commitment to open integration standards gives you the power and flexibility to connect to virtually any data source to leverage clean, trusted data for performance management decision making. Read more about integration options.
RAPID DEPLOYMENT
Administration-free deployments and updates keep your versions up to date with minimal hassle. Initial integration is seamless with the easy to use Axiom Data Import Wizard. Connect and integrate data from any GL, ERP, CRM, HR or data warehouse system or import directly via Excel or CSV files. Onboarding support is also available, with our team of industry-leading experts ready to assist and tailor solutions to your needs.
INDUSTRY LEADING SECURITY
The Axiom Software Cloud platform is fully equipped with enterprise grade user-based security enabling you to have complete control over how your performance management data is accessed and shared within the organization.
GOVERNANCE AND COMPLIANCE
Axiom Software is a secure, enterprise-grade solution that is SSAE-16 SOC Type II (SOC2) audited, protecting customers' sensitive data. The Axiom Software cloud service leverages the Microsoft's Azure HIPAA Compliance framework which includes a BAA Contract Addendum from Microsoft as well as ISO 27001 audit controls that address HIPAA security practices as recommended by the U.S. Department of Health and Human Services.